Blockchain is a hot topic in the financial industry right now. It has grown from the only-cryptocurrency-related matter to the global approach to data storage and security. Blockchain has changed the entire concept of financial literacy and investments. No wonder we are interested in the current blockchain trends and how they may influence the market. We are sure that this sector will only grow in 2022, so it will lead to growth in investments in NFT and blockchain development.
Blockchain place in the world
Let's remind the definition of blockchain for those, who have only opened this world now. Blockchain in its concept is a digital database created to store information about certain operations on many devices at the same time. The info includes data about the time of the transaction, contract databases, and any other specs that are presented in the form of interconnected blocks.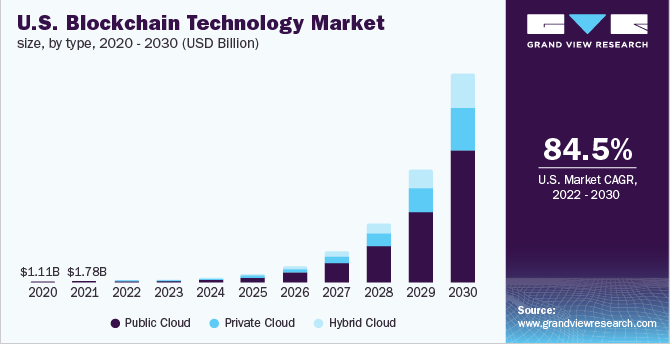 There are a lot of predictions about this sector that may define the upcoming blockchain development trends. For instance, in 2019 International Data Corporation stated that by the end of 2022 blockchain solutions will expand up to almost $12 billion. This explains the fact that enterprises are finding new ways to apply the blockchain approach to various industries like gaming, identity management, and even healthcare. Now the number of blockchain wallets has reached 70 million, and the figures are growing, so the predictions were right and there is more for us to expect.
What Blockchain Development Trends to Expect in 2022?
With the recent fall of bitcoin, we should keep in mind that this is a possible turn of events for any technology. However, it's not the reason to give up on everything new and unknown. On the opposite, we need to keep up with the information about the blockchain development trends to be able to get benefits from the offered opportunities.
"Green" approach
Blockchain is known for consuming a lot of energy for its development and maintenance, and it causes a rise in the carbon emissions level. Some countries even ban the mining processes on their territories to prevent ecological consequences. Tesla decided to stop accepting payments in Bitcoins for their products in 2021. So, no wonder the blockchain sector is aimed at searching for alternative and improved development methods. And they should be environmentally-friendly in order not to cause the drawbacks from another direction considering ecology. A good example is the Cardano token which consumes only 0.006 terawatts/hour (compared to Bitcoin's 78 terawatts/hour). The latest research has shown that Bitcoin mining causes 57 million tons of carbon emission every year, which is the same amount as the emission of a small country in Europe.
Similar to Cardano, "green" initiatives can eliminate the impact on the environment. We can assume that in 2022 the investments in renewable energy generation will only grow, so blockchain development will be able to move in this direction as well.
NFT is a new "black" in blockchain
In 2021 NFT has emerged on the blockchain market. Non-fungible tokens have created much hype around themselves as it uses blockchain technology to mark the ownership and "price" onto any type of asset. This approach forms marketplaces with digital things like 3D models, gifs, pieces of music, videos, and many more. The things we used to use and copy on social media for free now can get a particular value without disappearing from public access.
However, it is not the full potential of this blockchain sector. While we are gradually getting used to NTFs as artwork, this can become a method of providing access and services like rental systems or subscriptions. Willam Grand and Son, for example, has sold 46-year-old whiskey as an NFT, which meant they identify the origin of each bottle. Well-known brands Nike and D&G have designed clothing and footwear with NFTs. And it is not all the possible uses of this blockchain type, so the trend here is emerging new creative ways of its implementation.
"Metaverse" direction
Thanks to Mark Zuckerberg's Meta, the concept of metaverse does not seem like something sci-fictional. We freely adopt this idea, as we gradually transfer our lives into the virtual sphere. But how can the metaverse be connected to blockchain technology? The biggest issue blockchain can help there with is decentralization. It is required for transparent and seamless access to all metaverse features. And as we mentioned above, blockchain technology means storing data on multiple computers, which makes the perfect basis for decentralization initiatives.
Apart from this, blockchain allows developing metaverse economies thanks to cryptocurrency integration. Online gaming platforms already follow this blockchain trend using tokens to create their own decentralized digital assets. The development of this sector will allow the metaverse to become a completely functioning virtual world.
Internet of things and blockchain security potential
These two concepts are extremely compatible due to their ability to create records about machine-to-machines transactions and interactions. Their combination can have a huge potential in terms of security and scalability. This is possible thanks to automated and encrypted databases and ledgers of blockchains. Microtransactions can be made with cryptocurrencies enabling machines or networks to conduct services with each other. And do not forget about the higher speed and affordability of these processes.
Vaccine tracking control
In 2022 the Covid-19 pandemic remains the issue, so no wonder that trending blockchain technology finds its way to assist in this field as well.
The key direction the blockchain can be used is the tracking of vaccine distribution. With the cases of selling fake vaccines, it is important to have a way to prove the origin and the destination of the product. Implementation of the blockchain security features can assure the tracking and confirmation that the vaccine has reached the intended receivers. Apart from this, it can help in quality assurance of the supply chain by controlling the way the batches are stored, their right temperature, and numbers. Because the pandemic is not over, we can expect more blockchain development trends aimed at creating, distributing, and controlling the vaccination process in 2022.
What to expect ahead?
Even though blockchain technology has entered so many spheres of our lives, it is still at the beginning of disclosing its potential. The world is heading towards more trust and transparency, so using blockchain can fight corruption and encourage more collaboration.
Keeping track of blockchain trends and their implementation in 2022 can provide you with insights into how this technology will evolve after. For now, we can observe how it overcomes challenges becoming eco-friendly and recognized by the even wider community.